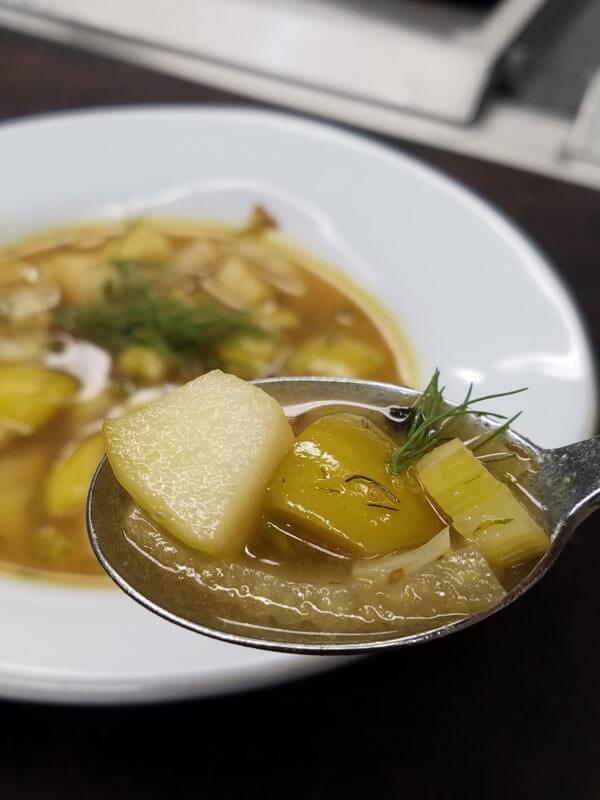 You'll love this soup for its simplicity and the unexpected sweet and savory flavor combination. Fennel and apples make it rich in gut-friendly prebiotics. Makes a fantastic starter or side soup to any entree. Gluten-free, nut free, dairy free.
Skill Level: Beginner
Serving Size: 10-12 oz.
Ingredients
1 Tbsp. olive oil
4-5 garlic cloves
1 fennel bulb (stalks removed, cut into ½ inch pieces)
2 ½ cups broth of choice
2 granny smith apples, (chopped into bite-size pieces)
Directions
Place medium-sized pot over medium heat.
Add olive oil. Cook garlic until just brown, about 3-5 minutes.
Add cut fennel bulb (with some fennel leaves) to the pot, cook for 3-5 minutes until brown.
Add broth and bring heat up to high to create a roaring boil for about 5-10 minutes.
Once soup has developed more flavor and has slightly reduced, reduce heat to a low simmer and add chopped granny smith apples.
Simmer for about 10 more minutes until apple has softened. Puree with an immersion blender for a smooth texture, or keep it simple and leave as is.
Nutrition Information
Calories: 170
Fat: 5 g
Protein: 5 g
Carbohydrates: 31 g
Fiber: 6 g
Added Sugar: 0 g
Sodium: 520 mg